Fernald Mansion:  A virtual tour
The home, saved from destruction by the Historical Society, is not open to the public but can be enjoyed in the image tour below.
The Fernald Home by Michael Redmon
The new home to which Charles Fernald and family moved in 1864 bears little resemblance to the house one sees today at 414 West Montecito Street.  The house has undergone a gradual transformation which lasted almost one hundred years and which even has included a move across town.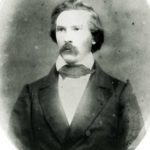 Charles Fernald, like so many others, arrived in California in 1849 in search of the riches that could be had in the gold fields.  Born in Maine in 1830, he had been studying law when the gold fever struck.  Again, like so many others, his quest came to naught; he ended up back in San Francisco where he completed his law studies.  After living through two catastrophic fires, he decided to return east in 1852.
He never made it.  Stopping off in Santa Barbara to visit friends, he ended up accepting the position of sheriff at the tender age of twenty-two.  Miraculously, considering the period of lawlessness the town was undergoing, young Fernald survived his two months as peace officer and in August he was elected district attorney.  This was the beginning of forty years of public service and community involvement.  In addition to his thriving law practice Fernald served three terms as a county judge and in 1881 was elected mayor of Santa Barbara.  In 1862, he married Hannah Hobbs and began construction of the family home.
The house origin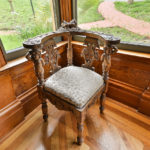 ally sat at 422 Santa Barbara Street, surrounded by a city block of carefully manicured gardens.  In those days, the family could enjoy clear views of the ocean.  The original house was a two-story, square structure made of brick with a lean-to kitchen to the rear.  It was not until 1880, as his family continued to grow, that Fernald had the house transformed to take on the look familiar to visitors today.
The house now had a steeply-pitched roof common to homes designed in the Victorian Queen Anne style.  As the family grew, so did the house in size. By the time the last Fernald daughter, Florence, made the final additions in the 1920s, the house had grown into a fourteen-room mansion.
Florence Fernald died in 1958 and her will dictated the house be demolished.  The Santa Barbara Historical Society launched a campaign to save the house as a landmark and move it to Society property on West Montecito Street.  The move was no easy task.  Workers cut the house into three sections and hoisted it onto trailers.  The journey across town took two days and some four hundred overhead telephone lines had to be cut to make way for the steep-gabled house.  One section became stuck crossing the railroad tracks, which resulted in a frantic call to stop the northbound Southern Pacific train.

.