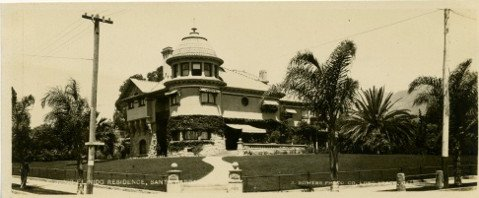 This house at 1900 Garden Street was home for many years to Prynce Hopkins. His father, Charles, had the house built in 1897 as a summer home for the family. Charles was from San Francisco and was a major stockholder in the Singer Sewing Machine Company. Francis Wilson, architect of the city's train depot, originally designed the house. Mrs. Hopkins had the house redone in the popular Spanish-Colonial style in 1931.
Prynce Hopkins was born in 1885. While attending Ojai's Thacher School, he demonstrated his fascination for the new flying machines by designing a working model for a helicopter. He earned degrees from London University, Yale, and Columbia and spoke five languages. Hopkins loved to travel, and he became deeply interested in Asia and eastern philosophies. In 1913, he returned to Santa Barbara to open a boy's school.
Hopkins spent a number of years teaching in Europe and traveling, but he eventually returned to Santa Barbara. He lived in the family home until 1956, when he built a house in the International style at 1920 Garden Street. A founding member of the American Civil Liberties Union and the local United Nations chapter, Hopkins remained active until his death in 1970, celebrating his 85th birthday that year with a trip around the world.
This article originally appeared in the Santa Barbara Independent.