In the 1860s and 1870s, W. W. Hollister in cooperation with a number of partners built one of the largest and most successful sheep ranching operations in California. Albert and Thomas Bloodgood Dibblee ultimately took over the day-to-day operations of this ranching empire, until the partnership was dissolved in the early 1880s.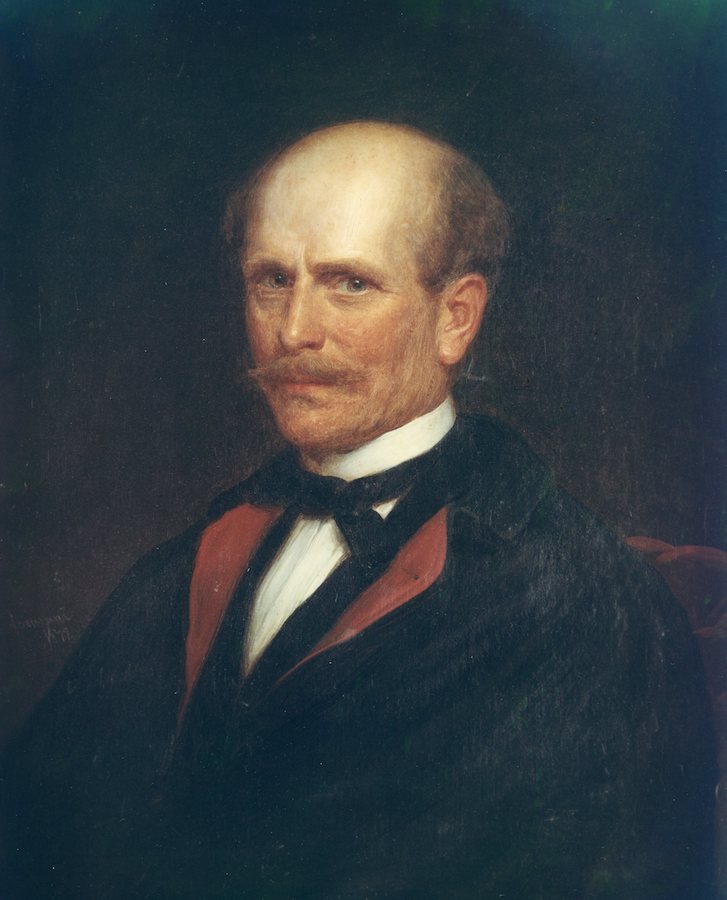 Flyer Dibblee was descended from a family which had arrived in Massachusetts from England in 1636. He became a judge in upper New York state and eventually settled in New York City. Here he raised his family of nine including sons Albert, Thomas, and Henry, all of whom would ultimately settle in California. Albert left school at 16 and, through his position at the State Bank of New York, developed a sharp business sense. After an accidental injury in 1848 he was advised to take a sea voyage. He decided to head for California to engage in the lucrative mercantile trade in a booming San Francisco. A frugal man, for years Albert lived in a small room above his office, as he slowly made his fortune. He also got involved in the city's volatile politics, serving on the executive committee of the Vigilance Committee in 1856.
In 1858, Dibblee and a partner purchased the 15,600-acre Santa Anita Ranch in Los Angeles County and convinced his brother Thomas to come out to look after the ranch.
Born in 1823, Thomas grew up in New York City. He earned two degrees from Columbia and went to work in the law office of Hamilton Fish, later governor of and senator from New York and then Secretary of State under Ulysses S. Grant. Dibblee obtained a law degree and practiced law until coming to California.
Thomas directed the successful sheep operation at Santa Anita, while Albert marketed the wool. Albert also became president of the Giant Powder Company, which manufactured dynamite. As a wool merchant, Albert eventually came in contact with Hollister, who by now was running a successful operation on his San Benito County ranch. In 1860, the partnership was cemented when Thomas and Hollister met at a sheep auction in Santa Barbara County.
The partnership now entered a period of both struggle and opportunity. The drought of the mid-1860s, virtually destroyed the cattle industry and put tremendous pressure on sheep ranchers. With prices depressed, the partners were able to buy up enormous tracts of land, concentrating their efforts in Santa Barbara County. By the late 1860s, they owned almost 140,000 acres in the county. As Hollister began to pay more attention to other interests, Albert oversaw the partnership's finances from San Francisco while Thomas was operations manager and attorney.
By the late 1870s, Hollister was having debt problems and his brush with death when he accidentally ingested poison caused the Dibblees to re-think their position. The final 1881 settlement had the Dibblees taking Rancho San Julian with Hollister taking five smaller ranches. Hollister's wife, Annie, reportedly said that the Dibblees had gotten the pie while they had been left with the crust. Henry, the youngest Dibblee brother, managed San Julian from 1875 until his death in 1910.
Albert remained in northern California until his death in 1895. Thomas married into the de la Guerra family and moved into a palatial home on the Mesa in the mid- 1880s. He too died in 1895. Rancho San Julián remains a working ranch, still in the hands of descendants of the Dibblee family.
This article originally appeared in the Santa Barbara Independent.