Westmont College is largely the result of one woman's vision. In August 1937, Ruth Kerr awoke from a sound sleep. God had spoken to this deeply religious woman and had told her the time was right to open a Bible school. This was the beginning of Westmont College.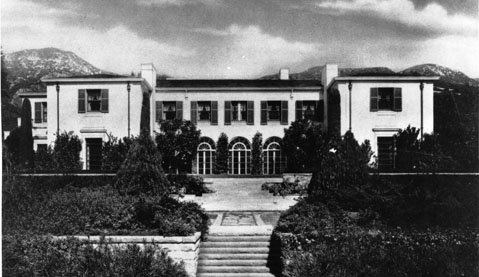 Ruth Kerr became president of the Kerr Glass Manufacturing Company in 1930, five years after her husband's death. Using funds from her successful company, she opened the Bible Missionary Institute in Los Angeles in 1937. Two years later, the school added some liberal arts courses and changed its name to Western Bible College. The metamorphosis continued the following year under the leadership of Dr. Wallace L. Emerson. The school moved to larger facilities in Los Angeles, became a four-year liberal arts college built upon Christian principles, and changed its name one last time to Westmont College. Why Westmont? According to Emerson, because the "name sounded all right."
After moving campuses a couple times and losing funding, the college needed a new home. Bolstered by funds from the sale of the last campus, the search for a new site continued. It led school representatives to Montecito, where, in 1945, they purchased the 125-acre estate El Tejado from Charles Holland. The estate was the former home of the Dwight Murphy family, and the large main house had been designed by Reginald Johnson, architect of the Biltmore Hotel and Santa Barbara's main post office. The house became Kerrwood Hall.
Today, Westmont College occupies a campus of more than 110 acres with a student body of more than 1,300. More than 80 percent of the faculty are doctorate holders. The college remains dedicated to its mission of "…serving God's kingdom by cultivating thoughtful scholars, grateful servants, and faithful leaders for global engagement with the academy, church, and world."
This article originally appeared in the Santa Barbara Independent.