The Upham Hotel, at 1404 De la Vina Street, is one of the oldest in Southern California. It opened in 1871 as the Lincoln House, operated by the Amasa Lincoln family. Amasa Lincoln brought his family to Santa Barbara in December 1869 in hopes of going into ranching. Born in 1833 in Massachusetts, he was a distant cousin to Abraham Lincoln. At the recommendation of W.W. Hollister, Lincoln purchased the Tajiguas Ranch located some 30 miles west of the city. The family moved there, but drought conditions made ranching difficult. Also, Mrs. Lincoln wanted a place in town, and in 1870 she bought the site upon which the Upham now stands.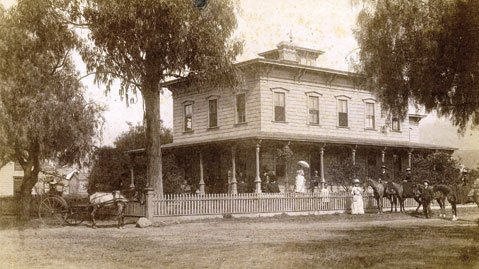 In 1880, the Lincoln family sold their home, and it passed through the hands of a number of owners until 1898, when Cyrus Upham bought it. He changed the name to The Upham and operated the hotel until 1911. Upham expanded the hotel's operations, adding a two-story annex to the property. It later was christened the Lincoln House in honor of the first owners.
The hotel was declared a city landmark in 1980, and a bronze plaque was placed in 1996 when the hotel celebrated its 125th anniversary. Today, the Upham Hotel continues to serve guests, flavored with the ambiance of 19th-century Santa Barbara.
This article originally appeared in the Santa Barbara Independent.