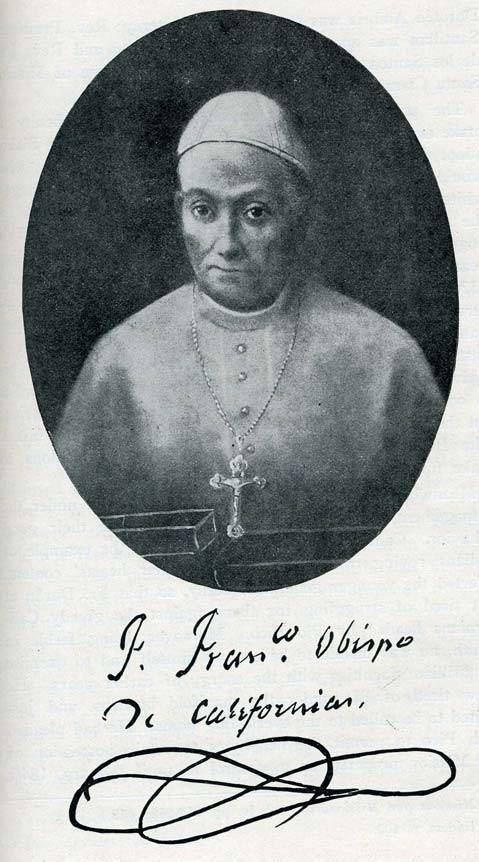 Founded in 1959, Bishop García Diego High School was named after California's first Roman Catholic bishop — the only bishop to ever call Santa Barbara home. Francisco García Diego y Moreno was born in Jalisco, Mexico, in 1785, a time when Mexico was part of the Spanish empire. At the age of 10, he entered the seminary at Guadalajara, and in 1802, he became a Franciscan. Six years later, he was ordained a priest and began a period of missionary work and teaching throughout Mexico.
In 1833, the Mexican government, now independent of Spanish rule, ordered the secularization of the California missions. By 1840, lack of funding and loss of much of their Indian labor had placed the missions in a sorry state. By this time, the government was well into the process of disbursing the lands upon which the missions depended for sustenance.
García Diego began a campaign in 1835 to have a bishop appointed to oversee church affairs in California and to champion the missions' cause. His efforts were rewarded in April 1840 when Pope Gregory XVI established a diocese for Alta and Baja California. The pope named García Diego as the first bishop. In January, 1842 Diego made Santa Barbara his new headquarters. The new bishop had big ideas for his new home, planning to build a new church, seminary, parochial school, and more. The mutual good will did not last long. García Diego found his quarters at Santa Barbara Mission to be cramped and stuffy.
Relations continued to deteriorate. The old Spanish families of Santa Barbara looked askance at the bishop's Mexican origins. His habit of criticizing locals' behavior and morals hardly endeared him to Santa Barbarians, who began staying away from services when the bishop was scheduled to speak.
Bishop García Diego passed away at the Old Mission in April 1846. Although buried with full honors, reportedly his funeral was not well attended. It was a sad ending to a reign that had begun with cheers and acclamations.
This article was originally featured in the Santa Barbara Independent.