One of Santa Barbara's most distinctive buildings is the beautiful stone edifice at 1500 State Street, the home of Trinity Episcopal Church. Founded in 1866, the Episcopal congregation was the second Protestant denomination to hold regular services in Santa Barbara, after the Congregationalists.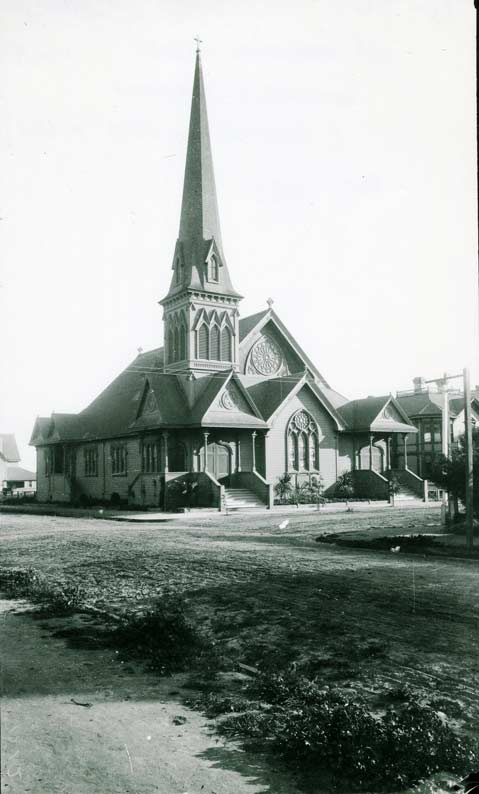 There was no call for Protestant churches in Santa Barbara during the Spanish and Mexican eras; the population was united in the Roman Catholic faith. The few Americans who did settle here invariably converted to Catholicism if they wished to marry or own land. In the 1850s, the number of Protestant newcomers slowly grew in the aftermath of the Gold Rush and California statehood. The first Protestant sermon preached in Santa Barbara appears to have been by the Reverend Adam Bland, a Methodist circuit rider, in 1854.
The first Episcopal service took place on December 16, 1866, in the county courthouse, the former John Kays adobe, located in the same block where the courthouse is today. The name "Trinity" was bestowed upon the church the following March, reportedly at the suggestion of a parishioner who had attended an Episcopal church of the same name in New York City. The early membership roll of the church contained many familiar names, such as W.W. Hollister, Charles Fernald, Russell Heath of Carpinteria, and ship captain Martin Kimberly, to name just a few.
The earthquake of June 29, 1925, virtually demolished the stone church. Once more, the congregation dedicated itself to rebuilding and renewal. The result was today's Trinity Church, a triumph of the spirit and faith.
This article originally appeared in the Santa Barbara Independent.